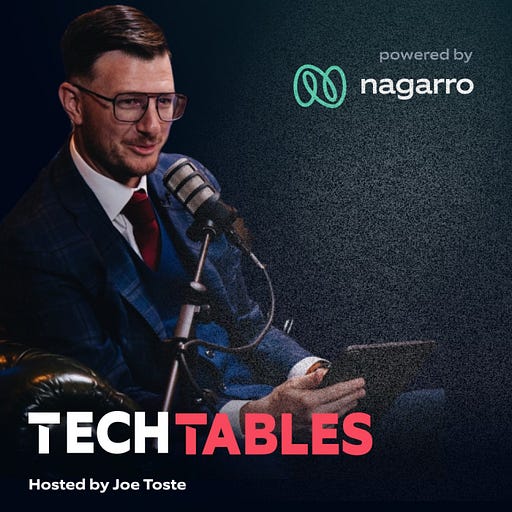 Oct 25 • 28M
Ep.112 Q Branch: Building What's Possible
with Aaron Judy is the Chief of Innovation and AI at Maricopa County Clerk of the Superior Court
Sharing human-centric stories with CIOs and technology leaders on https://www.techtables.com/
Hi Friends -
After taking a small break to build out TechTables+ (advanced early access to podcast episodes), we are back to releasing weekly episodes on TechTables. 
This week's 3 Interesting Learnings are moved to Thursdays (see you later this week w/ 3 Interesting Learnings from the City of Dallas). 
Let's kick off with Aaron Judy, Chief of Innovation and AI at Maricopa County, Clerk of the Superior Court.
Behind the Mic by TechTables 🎙 is a reader-supported publication. To receive new posts and support my work, consider becoming a free or paid subscriber.
Sponsor: SentinelOne
And before we jump into today's episode, this podcast is sponsored by SentinelOne.
SentinelOne redefines cybersecurity by pushing the boundaries of autonomous technology —with its singularity XDR platform— SentinelOne is the leader in endpoint protection and beyond. Simply put, they stop the bad guys.
To learn more about SentinelOne, check out
https://www.sentinelone.com
Podcast Questions
Let's start with RPA (Robotic Process Automation). I recorded a great podcast episode with Krishna Edathil, Head of AI & Cloud at the State of Texas - where we dived into what the State of Texas is working on with its Cloud and AI CoEs - that's episode 40.
Before we jump into the three big AI initiatives you're working on - can you give us a baseline difference between RPA and AI - how are they different, and then how does AI supercharge RPA?
Why do you think there's fear regarding technologies like RPA, AI, ML, you name it. Why do humans close themselves off to the "Art of the Possible?"

Now Aaron - walk us through the big AI initiatives - Conversational AI, AI System Reliability, and Computer Vision & RPA you're working on.

What innovations have the most promise from what you're seeing in the govtech world?

What excites you the most?

What ideas do you have that aren't prototypes but could have promise in the future?

This next question is from Shauna Rodgers, Chief Digital & Data Officer (CDO) at the Texas Attorney General's office. I asked her in Austin a few weeks back when I caught up with her - what she'd like to ask you - since I know you guys are friends.
Shauna asks, "How do you measure adoption and relevance in technology to your constituency." How do you measure what's working and what's not, Aaron?
Aaron, let's wrap up with the future of digital humans.

First, what's a digital human, and second, what are the business applications of a digital human - it doesn't necessarily have to be with the superior court.

Lastly, tell the audience about your PoC with Cleo.
---
… For more like this, make sure to sign up for TechTables+ below:
TechTables+ helps you start connecting now across the public sector. To receive new posts each week, consider becoming a free or paid subscriber.
TechTables+ includes:
Early Access to never before released episodes

Early access to this week's 3 Interesting Learnings…